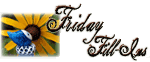 You can play this at Friday Fill-Ins!
One of the best concerts/plays/movies I ever saw that I really didn't think I'd like was The Bridges of Madison County.
Southern style chicken and dumplings is a recipe I recently made (or meal I recently ordered) that was delicious! (I made.)
It's time for

leftovers

.
Having a clean house is quite refreshing. (Someone want to clean it for me?)
If I never hear the word

Maverick

again, it'll be too soon.
To one side of the curving road was a cow on roller blades, and on the other was a sign that said "Don't drink and drive".
And as for the weekend, tonight I'm looking forward to our Friday night ordering of pizza, tomorrow my plans include

getting one of my World of Warcraft characters the rest of the way to level 60

and Sunday, I want to celebrate my birthday!