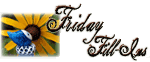 Some relationships are meant to last while others can be all too brief.
Kiss is the last concert I saw; it was on TV.

Spring should be here any day now.
Oh no! I forgot what I forgot!
I've recently started this new blog after deleting my old one last week.
The laughter of children never fails to make me smile.
And as for the weekend, tonight I'm looking forward to steaks cooked on the grill, tomorrow my plans include laundry and Sunday, I want to figure out with hubby how we're going to spend his week off!
You can play this by visiting Friday Fill-Ins.