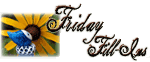 If I was to walk into your life, I would keep you and name you George.
Catch a bright star and place it where all can see.
And you can send me a winning lottery ticket.
I may forgive but I'm dealing with a memory that never forgets.
I'm the innocent bystander / Somehow I got stuck blogging.
What's keeping us apart isn't selfishness it's lack of empathy.
And as for the weekend, tonight I'm looking forward to

World of Warcraft

, tomorrow my plans include

World of Warcraft

and Sunday, I want to play more World of Warcraft!

You can play this at Friday Fill-Ins