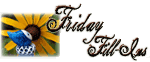 There is no need to be worried about acne at my age.


Where in the heck did the view of my feet go?


So far, making coffee this morning is all I managed to do.


Prospects for

finding my guinea pig a new home are slim.




The messenger sometimes

is the message.


Simplicity and tranquility are

to be found on a long road trip almost anywhere.



And as for the weekend, tonight I'm looking forward to playing World of Warcraft, tomorrow my plans include grocery shopping and playing World of Warcraft and Sunday, I want to add an extra day to the weekend!
You can play this at Friday Fill-Ins