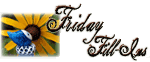 You can play this at Friday Fill-Ins!
October 12th is my birthday!
Clowns scare me!
Leaves are falling all around, it's

nice I live in an apartment and don't have to rake them.



My favorite horror movie is Poltergeist because I like saying "they're heeereee".
Road trips = good memories.
It was a dark and stormy night when my husband proposed to me.
And as for the weekend, tonight I'm looking forward to spending time with my family across the state, tomorrow my plans include resting and still trying to feel better after being in the hospital earlier this week and Sunday, I want to

sleep

!