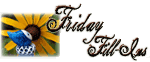 You can play this at Friday Fill-Ins!
Cooler weather and the leaves changing colors are some of the things I'm most looking forward to in October.
Sometimes I actually step away from my computer for more than an hour.
I never thought I'd get this fat fluffy and that's why there is a saying, "never say never"!
When I'm down, I sleep a lot, whine, be annoying and feel sorry for myself.
In my husband's heart is where you'll find me most often. (AWWW!)
A rainy day is good for watching old movies, doing puzzles, naps, and (of course) being online.
And as for the weekend, tonight I'm looking forward to the beginning of my husband's vacation, tomorrow my plans include maybe doing laundry and playing World of Warcraft and Sunday, I want to go shopping and play World Of Warcraft!